All About Acquire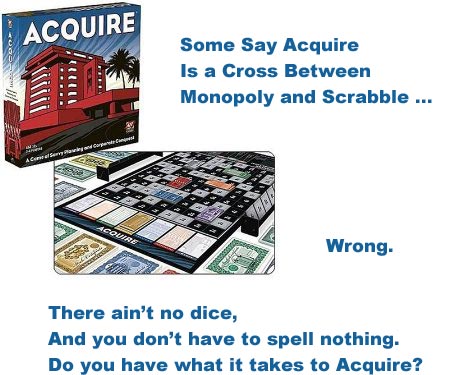 Born in the USA
Invented by American game designer Sid Sackson in 1962, Acquire is a game of international hotel chain mergers and takeovers. While Acquire contains an element of luck to spice things up, at its core it's a cutthroat strategy game that pits friend against friend in a race to own controlling shares of stock in the most successful hotels.
Simple to Learn - Complex to Master
The board is made up of a complex of squares, designated from A-1 to I-12 (You can count from 1-12, can't you?). Each player gets six tiles (with designations that match one and only one location on the board).
Each player's turn in Acquire goes something like this:
place a tile on the board
buy 0 to 3 stocks
draw a replacement tile
Easy, right? You got it. Acquire sounds simple because it is simple ... it's when hotel chains merge that it gets challenging.
Play a tile next to an existing tile and start a hotel chain -- you get a free stock in the newly created chain. You own the stock, not the chain -- and anyone can buy in! The two people who manage to have the most stock at the right time (when the hotel is taken over) get big cash bonuses.
It's hard to stay friends, when your "friend" keeps outbuying you in hotel stock!
$100 First Prize
With $100 going to the first place winner of the David E. Woolcott Memorial Acquire Tournament, there will never going to be a better time to start playing Acquire.
Practice Acquire Online
Gotta practice up, if you want to be the winner. So play online. There is currently only one online Acquire game (unauthorized), and it runs on Windows machines only. You'll find it here: http://www3.telus.net/kensit/NetAcquire/