Strategicon Game Library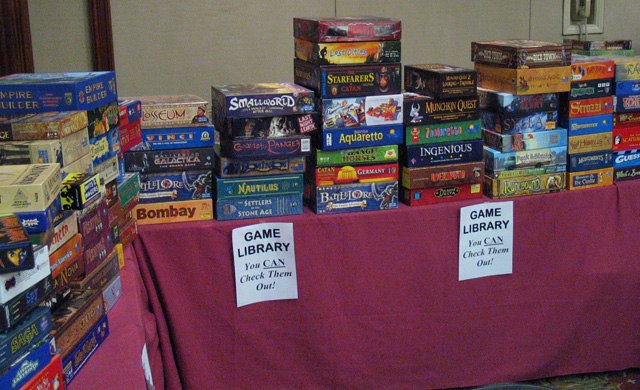 The new Strategicon game library is open for your gaming pleasure. Come check out our hundreds of games, with more being added every con.
Library Hours
Fri 3 pm to midnight
Sat 9 am to midnight
Sun 9 am to midnight
Mon 9 am to noon
Checkout Policy
Must have a valid convention badge and government-issued ID. Your ID will be held while the game is checked out. Games must be returned by the end of the day.
Latest Additions (since Orccon)
- Ad Astra - From FFG
- Age of Conan
- Arcana - AEG
- Central Pacific - Blue Panther
- Chaos - Z-Man
- Claim It! - Wattsalpoag
- Court of The Medici - Z-Man
- Duck Duck Go - APE Games
- Duck Duck Safari - APE Games
- Forbidden Island '- Matt Leacock's family'-oriented cooperative game (on the way)
- Fruit Fair - Wattsalpoag
- Jamaica (and The expansion)
- Jet Set - Wattsalpoag
- Mr. Jack in New York
- Mystery Express - The Days of Wonder whodunit game
- Neuroshima Hex - Z-Man
- Nomads of Arabia - Wattsalpoag
- Ra - Rio Grande Games
- Republic of Rome - Valley Games (at Orccon but came in at the last minute)
- Smackatoa - Blue Panther
- Tako Judo - Blue Panther
- Tales of The Arabian Nights - Z-Man
- The Adventurers - From AEG - a fun family adventure game
More to come -- some still on the way and some unconfirmed.