For Parents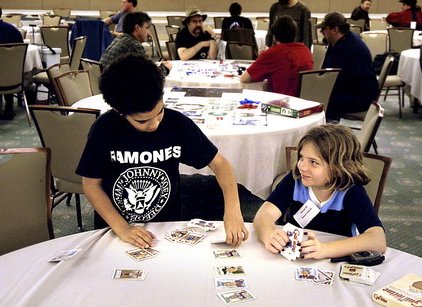 We receive several calls each convention from concerned parents, like yourself, with teenagers that want to attend their first game convention away from home. Please allow us to briefly describe the environment at a Strategicon quality game convention.
Typically, the child in question is a teenager in grades 8-11 and has been playing Yugi-oh, Magic: The Gathering, Dungeons & Dragons or other role-playing or strategy games with his/her friends for a while. Having heard of this upcoming game convention, they have come to you seeking your approval. You, however, want to know...
What kind of supervision will there be?
The ages of participants of these game conventions range from teenagers to their parents, averaging somewhere in their late college years. There are many adults who regularly attend, most of whom are working professionals, as well as hotel and convention staff and security. Of the teenagers usually attending, we have found them to be generally well-behaved, thus setting a good example for their peers (the "new kids" at their first game convention) as to what behavior is acceptable.
The convention hosts and its participants always manage to politely keep the rude from getting out of hand. Manners, courtesy, fair play and sportsmanship are the rules to the convention itself, and we are proud to say that this sense of honor permeates the entire hobby of strategy gaming. Everyone just wants to have a good time.
Is it all right for my teenager to stay at the convention site with friends?
While each parent knows their own child best, we are aware that this can be a major parental decision. Your child is asking to take on a real adult responsibility.
We can state with confidence that this is an excellent atmosphere for young adults to learn maturity and responsibility. The well-supervised environment of fun and excitement during 72 solid hours of gaming and making new friends is heavily underscored by this hobby's natural benefit of self-reliance, maturity and respect.
We're proud to say that, while your child will go back home and talk about friends made and games won and lost, the social lessons learned here never leave them. We think we are lucky that our hobby carries this beneficial social side effect. If your teenager seems eager to voluntarily take on these adult responsibilities, then it's likely that it will be all right for them to stay at the convention with their friends and behave properly. Ultimately, you, the parent will know best and we defer to your good judgment.