Hotel Information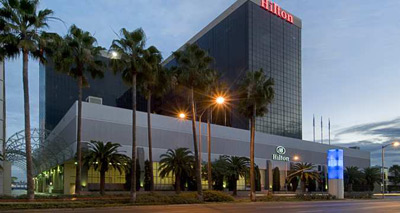 The convention room rate is $110 per night for single or double occupancy for two double beds, or one king bed. $130 for triple occupancy and $150 for quad occupancy.
For 2017 the first room block is sold as a set of three nights (Friday, Saturday, Sunday) with an optional Thursday and Monday night. The second block will break rooms out in individual nights. The reason we are doing this is we were having to shut down the first block in order to open the second block with 30+ room nights still unsold when one night sold out and we would lose those rooms.
Change to Hotel Reservation Policy
Starting with Orccon 2017, in order to confirm a room assignment for Attendees, the Hilton will require a guarantee for the first night's stay, refundable up to 24 hours in advance of the convention. Checks and major credit cards are acceptable to establish prepayment.
Hotel Food Policy
No outside food or beverage items, including alcohol, are permitted in public and convention areas. This includes the hotel lobby, registration and gaming areas, meeting rooms, theater and dealer room. If you wish to have food in any of these areas, it must be purchased from the hotel.
Any attendee, staff member or exhibitor bringing coolers, fast food bags, bottles, cases of beer or soft drinks, delivery boxes, grocery items or other outside food into public convention areas will be directed to take it back to their hotel rooms or the third-floor Courtyard.
Convention staff must enforce the Hilton's outside food policy. The convention can and will be fined for individual infractions, so your cooperation is appreciated.
Hotel Parking
Parking rates at the Hilton are as follows: $9 general and $20 for valet per day for convention attendees
Other Parking Options